Welcome to E-Sense, the new mobile-friendly platform for managing your E-Magine Building Energy Management Systems.
We are launching E-Sense which provides the user with a powerful new interface, in a friendly and easy-to-use platform with 3 new applications; Zone Control, Group Control and File Manager.
More about our Data Management Software…
Zone Control
Zone Control is the new way to manage your temperature, time schedule and exception settings across all the zones on all of your site.
See the current temperature, the system demand and occupancy status from the start menu, then expand to set your required temperatures and choose your weekly occupancy schedule. Exceptions and holidays can also be set here and programmed in advanced.
Group Control
Group Control allows you to make custom groupings of zones across one or many sites, to enable you make adjustments in one simple action.
Groups can include settings for temperature setpoints, time schedules and exceptions. Once created, the group can be saved, edited or deleted. Group Control is a powerful tool that allows you to quickly deploy settings, e.g. why not apply a 'Summer' mode that reduces all your temperature setpoints in one go or set a master 'Christmas Holidays' to shut down the system when no one is here.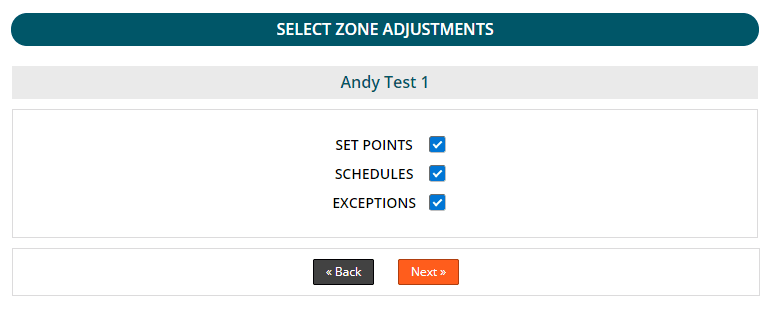 File Manager
File Manager is an essential file-storage tool. Store all your site-specific documents; wiring diagrams, network layouts, manuals etc in once place for easy access from any device.
Customers on an Essential Control Service Contract will have access to engineer reports following site visits, automated system reports are also stored here.
Users can be assigned to folders, meaning they will automatically get an email copy of uploaded reports following a service visit.